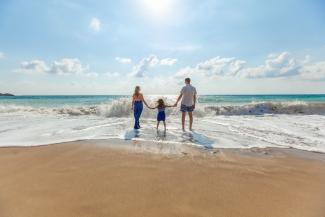 September is Life Insurance Awareness Month
When was the last time you reviewed your life insurance coverage? If you can't remember, now is a great time to review your policy. September is Life Insurance Awareness Month, a campaign that aims to educate people about the importance of life insurance and its role in protecting families' financial security.  Life insurance is a crucial part of financial planning. It can provide peace of mind knowing that your loved ones will be taken care of financially in the event of your passing. Review your life insurance options now and ensure that you have adequate coverage for your needs and we can help with that assessment.
Life insurance can be a valuable tool for protecting loved ones from financial difficulties if you die. It provides a lump-sum payment, known as a death benefit, to your chosen beneficiaries when you pass away. The primary purpose of life insurance is to provide financial security to your dependents and help them cover major expenses that they might struggle to afford in your absence, such as funeral costs, mortgage payments, tuition fees, and other bills.
Life insurance is considered worth it due to several reasons:
Here are some reasons why you might need to update your life insurance policy:
Change in Financial Circumstances

: If your income has significantly increased or decreased, you may need to adjust your coverage accordingly.

Change in Marital Status

: Marriage, divorce, or the death of a spouse can all necessitate changes to your life insurance policy.

Birth or Adoption of a Child

: The addition of a new family member is a common reason for increasing life insurance coverage.

Purchase of a New Home

: If you've recently bought a house, you may want to increase your coverage to ensure your family can maintain their living situation.

Starting a Business

: Life insurance can be used to cover business debts or buy out a deceased partner's share of the business.

Retirement

: As you approach retirement, you may want to adjust your policy to fit your changing financial needs.
It's important to review your policy regularly to ensure that it still meets your needs. During Life Insurance Awareness Month, it's an opportune time to review your coverage and ensure it aligns with your current circumstances. If you have any specific questions about life insurance or need assistance with reviewing your policy, contact us for personalized and comprehensive planning review. Life Insurance Awareness Month is the perfect time to do so!
Use the "Click for a Free Consultation" button if you would like to explore how we can help give you peace of mind with our Insurance Planning Services.
Edward C. Goldstein, CFP®, MBA, President
CERTIFIED FINANCIAL PLANNER ™ Practitioner 
Financial Life Planning, LLC
10,000 Lincoln Dr. East, Suite 201
Marlton, NJ  08053
Phone: 856-988-5480
Fax: 908-292-1040